Melissa Ortiz's New Tiki Bar Menu Provides To The Lengthy Seashore Eating Scene • The Hello-lo
Have you tried the food at the Bamboo Club? That question has been written and whispered a lot lately in Moncton since the town's new tiki pub launched an all-day dining menu a few weeks ago.
I was asked in disbelief, as if it was hard to believe that our favorite bartenders on 4th Street were now working in a place that served affordable, just-peeled Baja oysters with a tepache radish mignonette.
Another time it was spoken excitedly, an invitation rather than a question, as if I hadn't been to the Bamboo Club for several weeks in a row, drinking classic tiki cocktails in its dark interior and developing an unhealthy craving for the Thai tea fried chicken sandwich with brine (with this green papaya coleslaw).
Have you tried the food at the Bamboo Club? The question is even asked in Los Angeles, the city that pokes fun at our little roast scene but can't help but be curious about one of its own shortcomings.
For the past several years, the Bamboo Club's head chef Melissa Ortiz, the thought leader of the new menu, has worked as the right-hand man for James Beard's award-winning chef Michael Cimarusti, first as a contractor at Best Girl at the Ace Hotel and later as head chef at his casual Connie & Ted's Seafood Restaurant. (His gourmet outfit Providence charges from USD 200 per multi-course meal). While at Connie & Ted, Executive Chef Sam Baxter became an invaluable mentor for Ortiz, sharing Cimarusti's commitment and strategic approach to culinary excellence.
"Chef Sam works like no other chef I've ever worked for in my life, and it's all from Chef Michael," says Ortiz. "You always set a good example. Both of them taught me a lot and I want to pass that on to my chefs in Moncton. "
Ortiz is an Army veteran with over a decade of experience in experimental gourmet cuisine. The Orange County native fell into cookery school – and moved to Moncton – after returning from duty over a decade ago, but she didn't explore the city immediately or try to work here. Instead, she staged a succinct palate in a variety of kitchens, an obsessive need for balance and the expectation of consistency in the Michelin-starred Melissa, became head chef at the late Little Sparrow in Santa Ana and once managed the kitchen at corporate headquarters Snapchat.
She left Connie & Teds earlier this year because she was planning on posting to Afghanistan, but during the long government hiatus, the paperwork was secured so she was making fermentation-oriented pop-ups in Moncton with her best cooking friend Remy Bisharat under the name Pyru After Dark. The pop-ups received mixed reactions, which gave an important introduction to the city's low-key food culture and gave it a crash course on how the local chefs and local diners are still in training. (She says she didn't know Piru was a South LA Bloods gang, or that Pyrus first host, Sweet Dixie Kitchen, once had a minor public relations disaster called Popeyesgate.)
Other local opportunities arose and since the beginning of the year Ortiz has been increasingly involved in the Moncton restaurant scene: She is consulting with Rose Park Roasters about eating in the city center and has recently written a seasonal evening menu in Berlin. But there are about a dozen dishes that she created for the mood at the Bamboo Club and that has become Ortiz's passion project over the past few months. It's the first time Ortiz has created a menu by and for Moncton in 11 years.
"Making my food accessible was a challenge – simplifying my ideas into bar food," she says, noting that downgrading was never an option. "I just knew I didn't want to do the stereotype tiki bar menu. Moncton deserves better. "
Ortiz built the menu organically, drawing inspiration from the city's history and diversity as she started exploring it for herself. When she first went to Joe Jost's iconic Moncton Bar in March, she took note of the pickled eggs and pretzels they'd served since it opened nearly 100 years ago, and then went home to find her own Japanese-inspired Version to make. Realizing that Moncton didn't have a decent late-night grub, she made a classic 6-ounce chuck blend burger, cooked medium rare and topped with caramelized onions, Thousand Island homemade dressing, and cucumber made from hers personal collection was littered (regular price $ 10, $ 7 happy hour). She recognized the city's strong vegan mafia and made a suitable Beyond Meat version.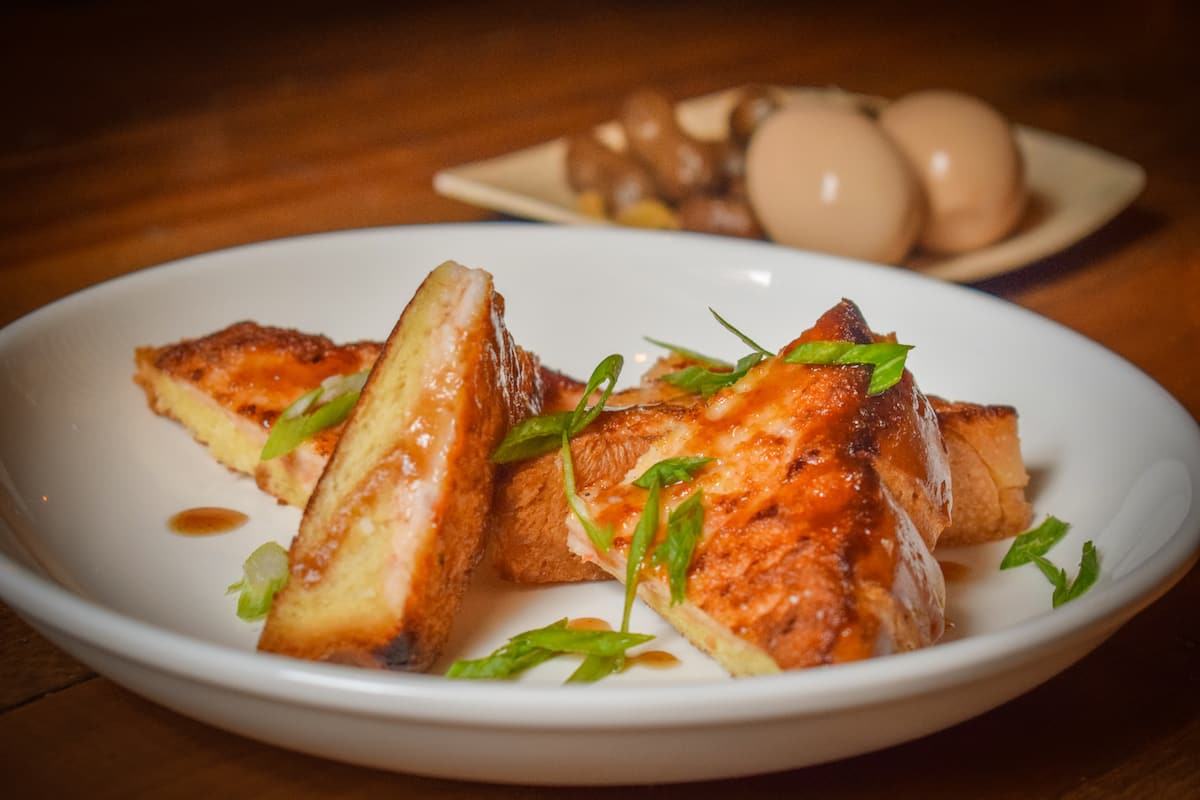 A coconut prawn toast drizzled with tamarind icing – inspired by a hearty pain reliever she took while cooking in the south of France – was nearly taken off the menu after Eater explained that prawn toast in LA was "having a moment" and worried her People who thought they wanted to be "on trend". She moved on after believing that few in Moncton had ever heard of shrimp toast, a fact confirmed after confused customers had to explain it to them as "like Texas toast with shrimp paste."
"It feels good to cook and people can just enjoy it with no excuse," she says.
And people are definitely enjoying it; The penetration of the Bamboo Club is a kind of lightly themed energy from the neighborhood bar. One recent evening, less than a week after the menu started at the Bamboo Club, a man came in and ordered the fried chicken sandwich with Thai tea, proudly declaring it was his third in as many days. The next time he came in, I watched as he saddled up to the bar, asked Ortiz about the dish of the day, and ordered it to be hidden from view. A plate of fried enamel was created, covered with a fermented hot glaze from Fresno and pineapple with one side of the Yuzu Kosho ranch. He dipped each one, put the fish all the way in his mouth, and licked his fingers as if devouring a plate with wings.
There's more to come, like homemade spam, mango sticky rice for dessert, and whatever Ortiz and her growing team of keen local chefs are keen to experiment. To celebrate the opening of the themed and thatched terrace, Ortiz plans to cook a feast for luau this Sunday. She ordered a 90 pound pig that she will wrap in banana leaves and cook on hot stones in the traditional Polynesian style.
"I just want to make good food in a city I live in," says Ortiz, beaming.
The Bamboo Club is located at 3522 Anaheim Street.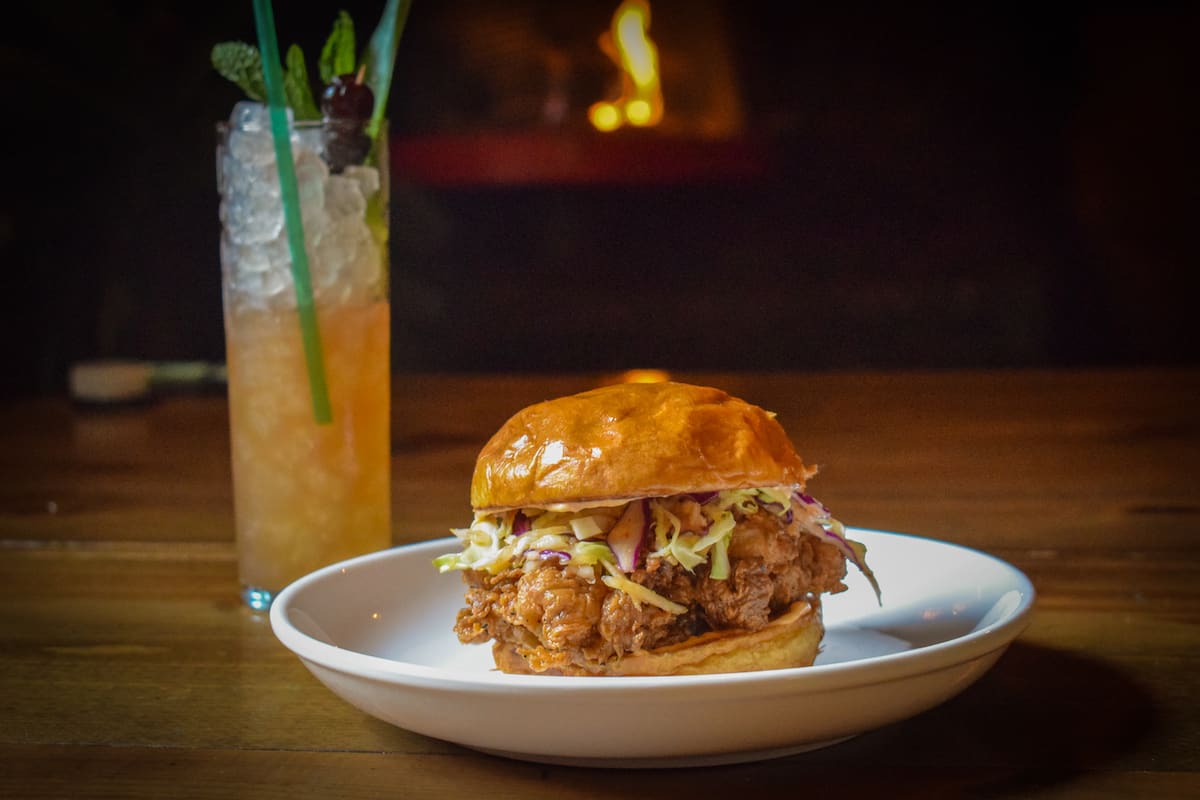 Fried Chicken Sandwich with Thai Tea. Photo by Brian Addison