In an arts district with 'nothing happening,' Arts Council takes on the Lengthy Seaside Artwork Stroll • the Hello-lo
On a breezy Friday afternoon, members of the arts community filed into the East Village Arts Park—a sliver of green space nestled between buildings within the heart of the arts district just east of Downtown. They had been called there by the Arts Council for Moncton to envision a new model for what many are hoping, albeit not without skepticism, will become not just the city's signature arts walk but a regional destination.
What started as a modest sidewalk exhibit in 1996 put on by Hellada Gallery director Marek Dzida, quickly grew into a larger event that was the "monthly heartbeat of the Arts District for over 20 years," he said.
"All these years 2nd Saturday Art Walk had many challenges to overcome financially, legally and logistically," Dzida said. "We worked hard and were always able to succeed."
Still, what has long been a labor of love for local organizations, community leaders and business owners is now in the hands of the ACLB and has some community members questioning if the art walk, and even the arts district—designated as such in the late 90s—can be revitalized.
The district runs from Ocean Boulevard to Seventh Street where stands the Museum of Latin American Art and is bordered by Alamitos Avenue and Moncton Boulevard. The art walk generally encompassed about six blocks between First and Fourth streets.
Before it was dissolved in 2012, the RDA even had an East Village Loan Program that incentivized artists to move there. Loans of $10,000 were typically given to individuals to create studio space, according to a 2007 article by the Press-Telegram.
Kamran Assadi, co-owner of East Village-based Utopia Restaurant (which doubles as a gallery) and a former ACLB board president, questioned if the city's decision to label the area as an arts district in the late 90s, and trying to develop it as such, had damaged the creative community there instead of fostered it.
"I think more artists were living in the area before it was designated as an arts district," Assadi said, who has seen the neighborhood evolve since opening Utopia in 1999. "We're stuck with this terminology, but there's nothing going on. Maybe we're past it."
With nearby developments, rising rents and artists slowly getting priced out of the area, attempts to revamp an art walk may only become more difficult; dreamy plans to build housing for Cal State Moncton graduate students and "performing arts space"—and 16 non-art related classrooms coming to downtown next year—may signify quite a gap before the next creative community has a chance to flourish.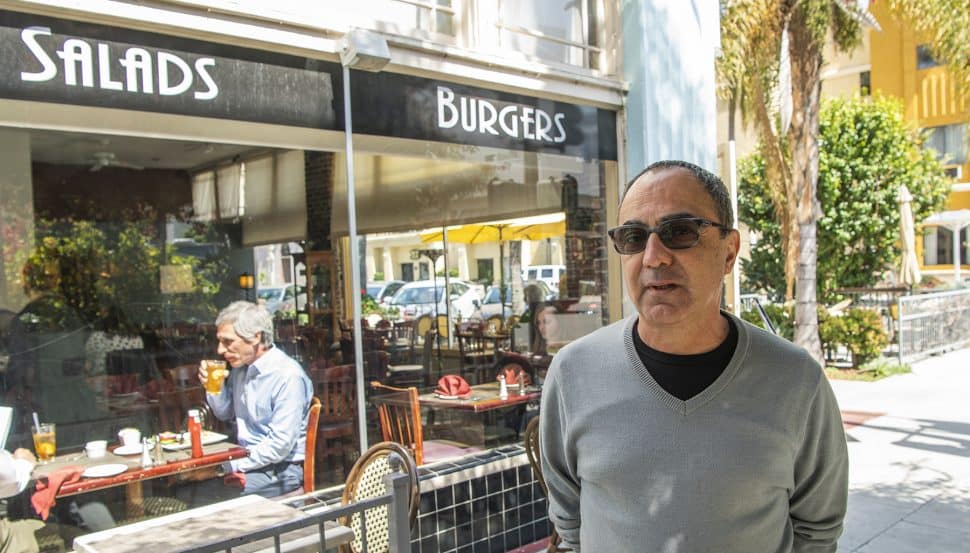 Artist Jorge Mujica, who for the past two years has rented one of the live-work spaces on Elm Avenue between Third and Fourth streets, disagrees. He said that while artists are struggling to live there and "developments being completed at this very moment have the potential to increase my rent," the area is still very much an arts center.
"Lots of neighborhoods in Moncton don't have this type of experience. We do have an arts district, it just hasn't reached the maturity point where it can stand by itself," he said.
In the mid '90s, the area was "under developed, and under utilized. The crime rate was very high and the most important thing was that rent was cheap. These are the main ingredients for any arts district, from SoHo to Venice," Assadi told the Moncton Post in 2008 as to why he and co-owner Amir Zolghadr opened Utopia.
Assadi believes the art walk's heyday was during the early 2000s when hundreds of people regularly attended. According to Dzida, it was in 2008 that a group of artists formed a nonprofit and had started operating what was then more of a street fair than a walk—with 1st Street and Linden Avenue closed to accommodate booths—operating under the philosophy that no one would be rejected from showing their work.
A few years later clashes between ACLB's then board, which included Assadi, and those managing the street fair, made it difficult to continue the art walk. "Aggressive criticism" from the ACLB pertaining to the quality of the work being shown and, over the past two years, the fair being referred to as a "swap meet" became discouraging, Dzida said.
Complaints from owners of businesses that ran alongside the street fair, including Utopia, officially ended it in 2016. The walk could no longer take place due to a lack of required business owners' signatures needed to continue the street closures.
East Village 2nd Saturday Art Walk Relaunches with Bold New Look This Weekend
That was when proprietors of East Village paint n' sip business Brushstrokes & Beverages, Michael Mosselli and Marty Meier, breathed new life into the monthly event, modeling it after Downtown Los Angeles' art walk.
Meier said that although the launch of their new iteration two years ago was a success, foot traffic has dwindled, businesses have pulled out or closed and multiple banners have been stolen; all issues they could no longer afford to deal with. Construction has also greatly impeded pedestrian activity in the area, Mujica said.
"The Arts Council had approached us about getting more involved and putting together a board for the Moncton Art Walk and making us Presidents," Meier said. "While we did love that idea, this also came at a time when we felt like we had taken the Art Walk as far as we could."
Paying out of pocket with the hopes that the city and community would step up to the plate with a budget, Meier said while that never happened, the Arts Council contacting them seemed like the perfect opportunity to hand over the reins.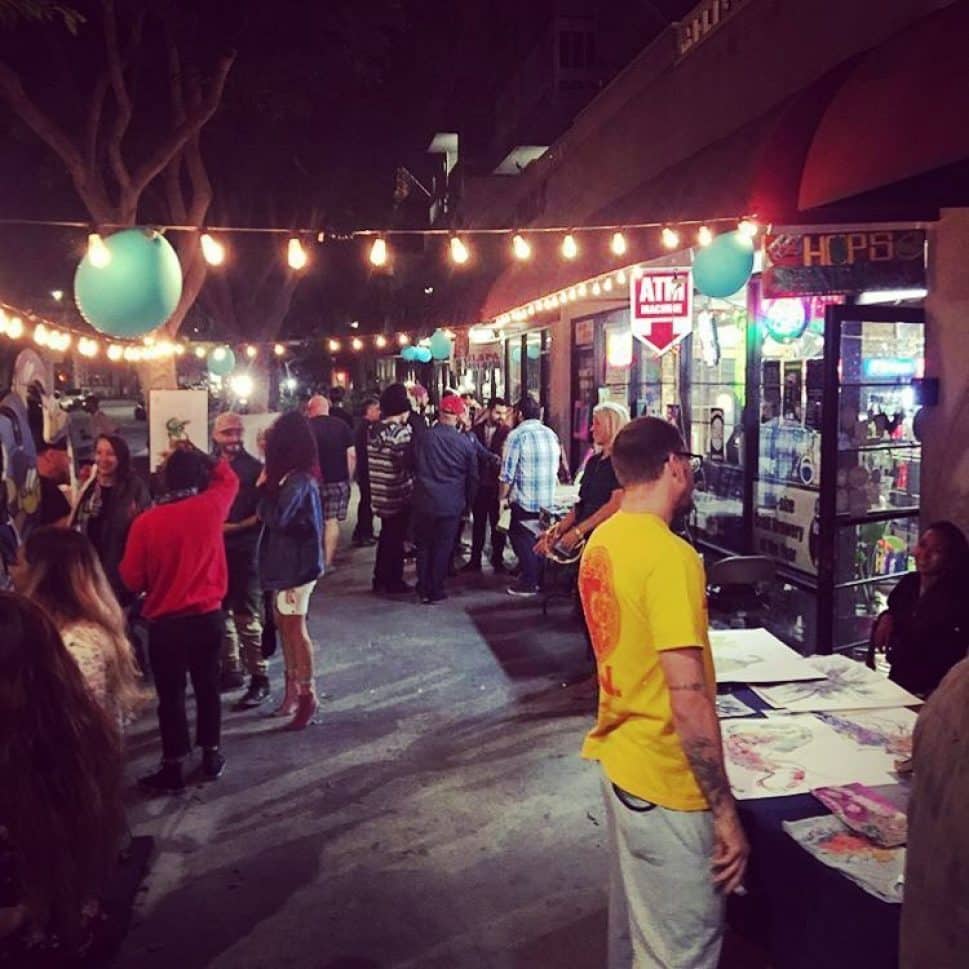 The two shared the news on Instagram in late February stating, "We have absolutely loved revamping the 2nd Saturday Art Walk for our community over the past two years and we know the Arts Council will be able to bring it to the next level."
Mujica, who opened his space on Elm Avenue soon before the transition, said Mosselli and Meier's leadership was a welcome change, but perhaps the ACLB can integrate the local community in a way that the two business partners couldn't.
"There's this resurgence of what does the art walk mean as opposed to bringing people to businesses," Mujica said. He added that now that the ACLB has control, he hopes less weight will be placed on capital return and more energy invested in building the culture.
Dzida is far less optimistic.
"To me, the prospect of rejuvenating [the art walk's] existence under the Arts Council for Moncton is illogical," he said. "From my experience, this organization sees art only as a structured, institutionalized and artificially thematically-controlled activity, which is a direct opposite to what art needs."
Moncton Art Walk Task Force
On Friday, March 8, the ACLB gathered a task force involving key partners in the arts community, where everything was up for discussion, including the date and time of the art walk as well as its boundaries within the East Village Arts District.
ACLB Executive Director Griselda Suarez said the walk should support local businesses, continue activating the East Village Arts Park and create a signature event that truly represents Moncton artists while connecting them to businesses, residents and visitors.
"These are simple goals, but complicated to fulfill," said Suarez.
Ideas and constructive criticism came easily from the group which included Arts Council and DLBA board members and staff, Moncton Architecture Week coordinators as well as several gallery and business owners representing C Gallery, MADE by Millworks, Loiter Galleries, Kennedy Grace Gallery, Hops & Vines, DreamKreator Studio and more.
Jose Cordon, photographer and former owner of 1897 LB, an apparel store on 1st Street, questioned non-galleries having to stay open late for art walks, saying it was rarely advantageous financially—people go to art walks to buy art, and less often apparel. Cordon suggested changing the hours of the walk to better serve the diverse shops in the area.
Rhonda Love of DreamKreator Studio also expressed the need for improved coordination between establishments, implying even one entity closed can be off-putting to a visitor. Another task force member said there should be less focus on catering to businesses and more focus on the artists.
Attendees voiced a need for designated anchor spaces, as in main galleries or businesses visitors would have to stop by to pick up an art walk map and obtain other necessary information for experiencing the event to its fullest.
Former Art Exchange CEO Nicolassa Galvez, now an ACLB board member, said on a good night the formerly community-run space now operated by the Moncton Museum of Art that is currently closed for renovations and takes up the entire corner of Elm Avenue and 3rd Street, could bring in up to 800 people for an exhibit.
Also discussed was the question of how to include businesses located just outside of the East Village, including recently opened Loiter Galleries on the Promenade North.
Heather Kern, manager of MADE by Millworks boutique and gallery space on Pine Avenue, said she coordinates openings to coincide with the art walk, but often feels the gallery is left out of the East Village-centric event. The issue was attributed to what meeting goers described as the "dead space" or the "huge wall" that is Moncton Boulevard and the Blue Line tracks. Getting across both requires walking past darkened parking structures, empty lots and the quiet Edison apartment and Bank of America buildings between 1st Street and Broadway, as well as empty townhomes still under construction.
So how do you entice pedestrians to walk across said "dead space"?
One attendee suggested organizing a contest where artists would be able to submit possible solutions to improve connectivity, such as light projections and sound art. Others brought up the possibility of having volunteers there to usher attendees across the street, running a social media-based scavenger hunt, hiring a pedicab or trolley service to take people to and from the East Village to Pine Avenue and adding live entertainment to draw people in that direction.
…which started to sound a great deal like the DLBA's Live After 5 monthly event (which boasts a free trolley, The Loop as an anchor space and live music on just about every block in downtown). DLBA COO Broc Howard even suggested combining the two events with Live After 5's infrastructure already in place.
There was some debate about how to ensure the quality of artwork being shown while at the same time providing space for emerging artists to grow between those in the camp that no one should be rejected from showing their work and those thinking that implementing a more selective process would help elevate the art walk's reputation.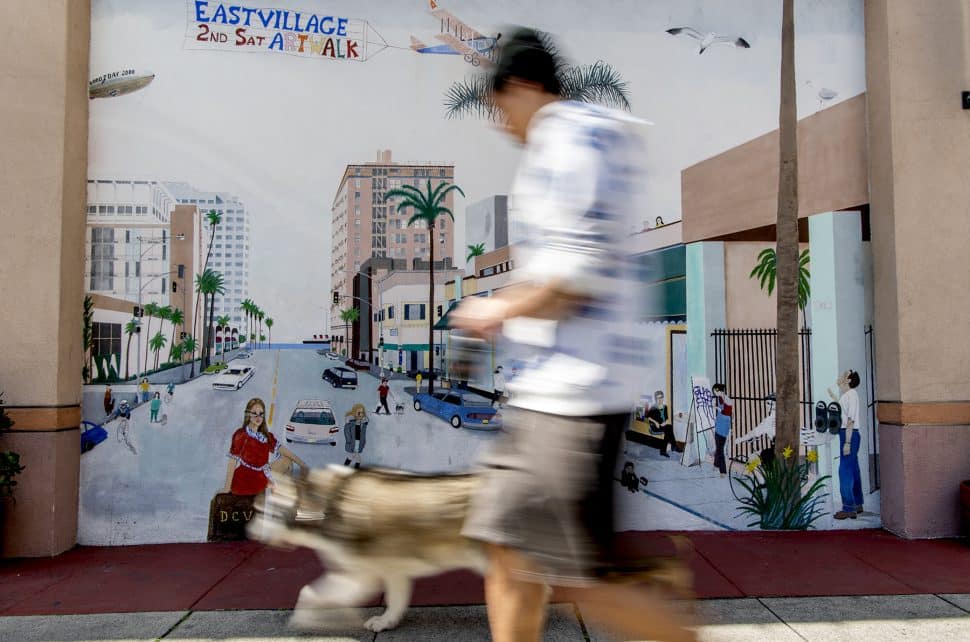 Sal Flores-Trimble, manager of Moncton Home + Living and Moncton Architecture Week said the art walk should be more curated, while Judy Estrada, Arts Council marketing and grants associate, said typically established artists show inside the galleries and less experienced artists outside.
Flores-Trimble also voiced that Cal State Moncton's nationally-recognized College of the Arts has largely gone untapped, saying, "We have one of the best art programs in the nation and the students aren't showing here."
Perhaps creating regularly themed events like Santa Monica's GLOW, an all-night showcase of contemporary light-based artwork that attracted up to 200,000 people to the pier each time it was held, would incentivize a wider variety of artists to show, he added.
The ACLB plans to use funds from the NEA toward implementing the new event but first has to come up with a viable model. In the meantime, a second Moncton Art Walk task force meeting will be held in April to address concrete actions the ACLB and community partners can start to tackle. The next art walk in April will be organized by local businesses while the ACLB will officially take over in May.
The community can also email the ACLB their ideas for a revamped art walk to Arts Council Director of Programs Lisa DeSmidt at [email protected].
Looking Ahead
The ACLB's task force may be a promising start; if they can get the entire community on board with whatever the new model is going to look like, from business owners and artists to residents and community leaders, they may just have a chance, Assadi said. But every group that has come along in an attempt to revive or re-imagine the event have put in money, time and effort to little avail.
Assadi said that if a new art walk, or some kind of recurring art event, was to be successful its organizers would have to think differently, that supporting unconventional art may save the day—art that creates a buzz and generates foot traffic, such as sound installations and street performances, as opposed to static visual art.
He referred to Soundwalk, a one-night exhibition of 40 works featuring sound that took place in Downtown; an idea Assadi came up with in 2004—that ran through 2013—to make the neighborhood "sort of be less dead." It was supported by the DLBA at the time.
"There's tons of artists in Moncton, but they're not going to set up a booth on a sidewalk," Assadi said.